Choosing the best roofing materials for a Newton MA home ensures that your home's roof will last for years if not even decades before it needs repairs, and that your home's interior is insulated properly. High-quality roofing materials keep out heat, humidity, and excessive cold, and can also enhance your home's curb appeal!
To choose the best roofing materials in Newton, consider:
Local fire codes and risks for your area
The style of the home
Lifespan of the material
Any special installation or maintenance issues
The weight of the material
If you're in the market for a new roof installation in Newton, you might note a few added details about various roofing materials on the market today and their differences in terms of quality, longevity, and value. You can then determine the right roofing materials choice when your home needs a new roof installation.
The Best Roofing Materials for a Newton MA Home
Consider some pros and cons of common roof replacement materials and discuss these various options with a roofing contractor in Newton MA as needed.
Asphalt shingles are affordable and easy to install. Asphalt tiles are also available in a wide range of price points, and some are enhanced with cellulose and other materials for added durability and insulting properties. The downside of asphalt shingles is that they're heavy and older homes might need framework reinforcement before installation.
Clay tiles have a very unique, classic look that enhances your home's curb appeal in an instant. Clay is also noncombustible, reducing the risk of a house fire during a lightning storm. Clay tiles are, however, heavy and might need added framing, and not every roofing contractor in Newton MA might have the knowhow needed to install these tiles!
Metal roofs are fire-resistant and durable. Metal is also lightweight and offers excellent insulation properties, and metal roofs last for decades. The downside of metal is that it's quite expensive and may require the services of a specialty roofing contractor.
Slate tiles come in a wide variety of colors and styles, giving you a unique roof that will stand out from the neighbors! While the added style of slate is attractive, it might also look slightly cluttered on some homes, especially those with expansive roofs. Slate is also expensive and heavy and might require added framing before installation.
Wood shingles age to a very attractive, natural grayish tone that enhances a home and gives it a classic, rustic look. Some wood shingle manufacturers use recycled materials making them a very eco-friendly choice. However, you do want to invest in wood shingles with a high fire rating, which can add to their costs.
Concrete is easy to shape and form and is very lightweight, making it an excellent roofing material for a Newton area home. It's also fire-resistant and affordable, but not all Newton area roofing contractors know how to install concrete tiles properly.
Synthetic materials are available in a wide range of colors, styles, and price points. Synthetic roofing shingles are also typically lightweight and easy to install. However, note that some synthetic materials are relatively new so they have not yet proven themselves in terms of durability and longevity.
If you're still unsure the best roofing material in Newton, consider some added tips for choosing the right new roofing shingles and tiles for your Newton area home.
What Newton MA Roofing Material Lasts the Longest?
Investing in a quality roofing material now means saving money on the cost of roof repairs for a Newton home over the course of homeownership!
Metal, slate, and concrete tiles last for some 50 years or even longer. Some metal roofs are said to last over a hundred years!
Asphalt shingles last 20 years on average; low-quality asphalt shingles might need replacing after just 10 or 15 years.
Wood shingles last 15-20 years.
Synthetic materials vary; some last 15 years while others might offer a lifespan of 30 years or longer. Check with the manufacturer for the expected lifespan of your chosen synthetic roofing material.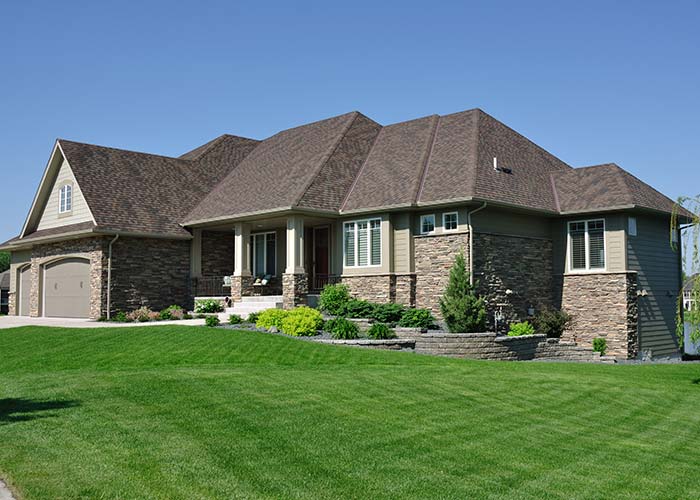 It's also good to remember that every Newton roofing material will vary in needed maintenance and repairs, which adds to your new roofing installation costs over time. Metal roofs typically need very little maintenance or replacing, as long sheets of metal are not likely to come loose from the roof even during a strong storm. Asphalt shingles, however, typically need repairs every few years, as they're prone to splitting, cracking, or blowing right off the roof!
Wood shingles might also need consistent sealing, coating, and other such repairs and maintenance. Clay tiles don't require as much maintenance but often show dirt and mud more easily than other types of roofing materials, so you might need to invest in regular roof washing if you opt for clay tiles.
What Type of Roofing Material Fits Your Newton Area Home?
When choosing new roofing materials for a Newton area home, be sure you opt for something that fits the home's overall style and the other exterior surface materials. For example, clay tiles work well with Mediterranean style homes but might seem out of place on top of a modern home with lots of metal and glass features.
The color of your new roof is also vital to consider; a deep red metal roof might be too much red on a brick home, whereas it can add some visual interest on a white home. Dull grey or black asphalt shingles might detract from the style and tone of a craftsman style home, but a light-colored metal roof or concrete tiles can enhance its color and strong style.
Are Modern Roofing Materials for a Newton Home Best?
Modern roofing materials, including synthetics and plastics, are lightweight and very affordable. However, keep in mind that metal stands the test of time and is proven to last for decades. Asphalt shingles might have a more limited lifespan than metal but they are also known to be durable, easy to install, and affordable.
Not all modern roofing materials are easy to recycle, which might be a consideration for the eco-conscious. Asphalt, metal, wood, and clay tiles are recyclable and often made from recycled pieces. This can make them the best roofing materials for a Newton MA homeowner who wants to save the environment with their home improvement choices!